Shipping
Orders placed on our website usually ship within 24-48 hours with UPS Monday through Friday. If you require a particular delivery date, please feel free to contact us and we will help you choose the best shipping method for your order. The following options are business day shipping options. *Weekends, holidays, nor the date that the package is tendered to UPS count as a day in transit.*We currently offer these shipping methods by default for all merchandise purchased in our online store:
UPS Next Day Air
UPS 2nd Day Air
UPS 3 day Select
UPS Ground

Signature Required is mandatory on any package with an insurance value over $1,000.00 per our shipping agreement with UPS.
UPS will not pay any claims for damage or loss in transit for items insured for over $1,000.00 that do not have Signature Required. Customers who do not want this feature must let us know in writing and understand that they waive the right to compensation for their items should they be damaged or lost in transit. We apologize for any potential inconvenience but this policy has been implemented with our shipping carrier to better protect your purchases. Please contact us if you have any questions and thank you for your understanding.

We DO NOT ship to freight forwarding addresses. All provided shipping addresses must be direct. Thank you for understanding.

UPS Shipping
Please refer to this map for estimated delivery times to your location from our zip code via UPS Ground: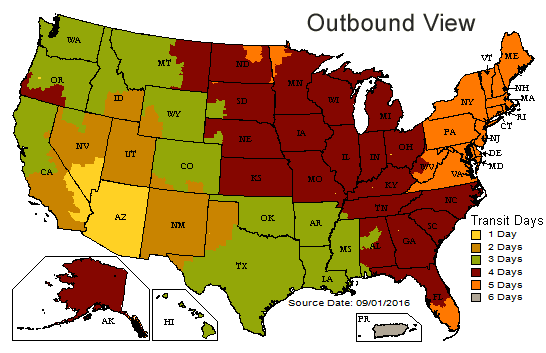 We do not have any weekend pickup or delivery. If you placed an order over the weekend, it will not be picked up until Monday.
US Postal Service Shipping
This service is not available for purchases of high value.
If you would like to have your items shipped via USPS, please indicate your wishes in the order notes section in the first step of checkout and we will email you with a shipping quote. Because we do not ship your item before you have approved the shipping charges and because we do not ship via USPS every day, your item may take longer to arrive.
Please note, if an item is damaged during USPS shipping, if the package goes missing, or anything else untoward happens, it is the customer's responsibility to file a claim with the Postal Service. We will provide any assistance we can but we cannot provide a refund for the item via this carrier. Please visit our Return Policies page for more information.
International Shipping
We primarily ship via UPS. However, if you would like to have your international order shipped via USPS, please let us know in the order notes at checkout and we will contact you with a new shipping quote and adjust the order to match once the order is placed. Please be aware that if you are ordering outside of the US, you are responsible for paying any duty and tax associated with customs. If you are having trouble placing an international order, please call us at (602) 346-8190

There is a 5 business day hold for ALL international shipping after payment processing for security purposes. It may take up to 3 weeks to receive your package.

Due to the privatization of the Dutch Post Office, we are no longer able to offer insurance on packages shipped to the Netherlands since PostNL does not honor USPS damage inspection requirements.
Thank you for shopping with us!